Spike's Tactical "Zombie" AR-15 Lower Receiver


In America, we like to decorate our stuff with logos and cool drawings. Our WWII bombers had hot chicks painted on them. Our cars have flames, and mustangs, and firebirds. Our T-shirts have logos from good ole' John Deere to Nike's swoosh telling you to "just do it". We are proud of this crap.

And in the US of A we take pride in our doomsday prepping. Flick that AR selector to "Dead" and show 'em who's boss, proud zombie hunter. Just do it.


Spike's Tactical Zombie Stripped Lower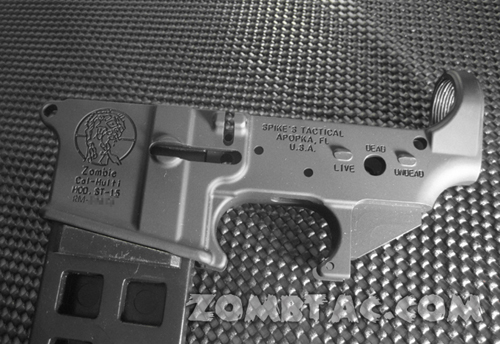 It's an AR-15 lower with a Zombie in crosshairs as it's rollmark. The selector markings read "Live", "Dead", and "Undead". We are Zombie Tactical.
Of course, we have to have it.
Spike's Tactical has quickly built a reputation for quality receivers at an affordable price point. They're great quality and finish. We own a few. They are also quite popular, often quickly selling out, and Spike's is currently (As of checking their site on 10/11/12) on an 8-12 month backorder! See Spike's backorder message. So if you see one, grab it like an MRE at a fat camp a week after the Zombie Apocalypse.
* CNC Machined from a 7075 T6 MIL-H-6088 Forging
* Low Shelf for RDIAS
* Milled Manufacturer Engravings
* Accepts .154" Diameter Trigger & Hammer Pins
* MIL-A-8625F Type III Class 2 Hardcoat Anodized Finish inside and out
* Spike's Tactical Lifetime Warranty


(more pics below)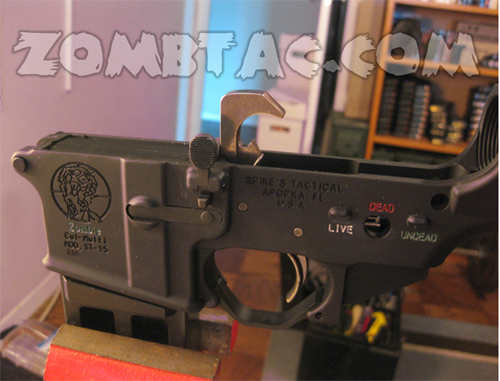 Disclaimer:
Any information contained herein is strictly for entertainment purposes. Zombtac.com does not endorse or recommend any actions by untrained individuals and assumes no liability from misuse of this information. Always consult Federal, state, and local laws, regarding firearms and target shooting.