Z.45, Hi-Point Carbine .45 cal


The .45 carbine has proven success in Close Quarter Battle (CQB) scenarios, utilizing a pistol caliber round that has stopping power, along with a compact carbine design, based on submachine guns from the M3 "grease gun" to Heckler & Koch UMPs used by LE. We take a zombie prepper favorite, the affordable Hi-Point carbine and give it the Zombtac touch.


Zombtac's Z.45, Hi-Point Carbine .45 cal

Hi-Point Carbine 4595ts


Zombtac Camo Paint Job


ZombieMax .45 ACP


1x30 Commie Red/Green Dot


Hi-Vis green charging handle


Custom Aluminum Barrel Shroud


Pre-ban 30 round .45 cal Mag conversion available!


Buttstock shell holder (w/ zippered pouch/velcro) with Mil Spec Monkey "Zombie Hunter" PVC patch.

(more pics below)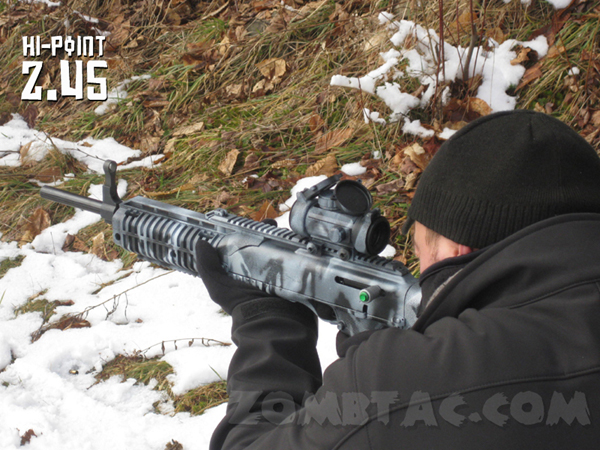 Hi-Point Firearms 4595ts Carbine in factory configuration.
"America's most affordable pistol-caliber carbine."
Barrel length: 17.5" Weight: 7 lbs.
Capacity: 9-shot magzine standard (can be made to accept 15-30 preban magazine)
Overall length: 32"
Stock: All-weather, black molded polymer
Sights: Adjustable peep sight

Hi-Point carbines are +P rated to accept all factory ammunition and feature.
- Lifetime no-questions asked, transferable warranty.
-All-weather, black polymer skeletonized stock.
-100% American-made parts and assembly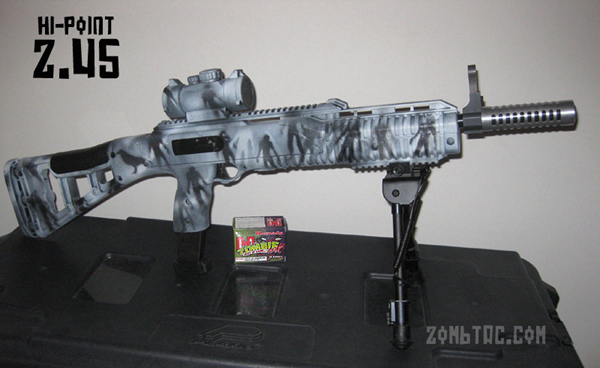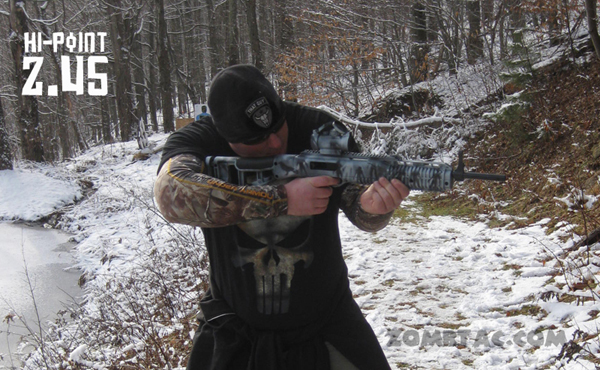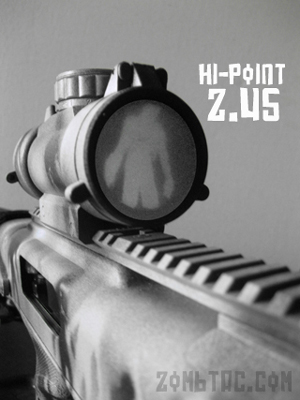 Disclaimer: Any information contained herein is strictly for entertainment purposes. Zombtac.com does not endorse or recommend any actions by untrained individuals and assumes no liability from misuse of this information. Always consult Federal, state, and local laws, regarding firearms and target shooting.