Dead-On Annihlator : Ultimate Zombie Crowbar?

It's made by Dead-On. It's called the Annihailator. It has an extreme design and a skull logo. 'Nuff said.



Survival: Review: Dead-On Annihilator Crowbar
| | |
| --- | --- |
| 18-Inch Utility and Wrecking Bar | Product Dimensions: 5.5 x 1.2 x 18 inches ; 3.7 pounds |
Here's the deal. This is actually a very useful wrecking bar/nail puller that is quite functional in any home demolition.

But forget that for now. It's made by a company called Dead-On. It's called The Annihilator. It has an extreme design that looks like a prop straight out of a zombie movie and it even has a skull and crossbones logo sticker on it. What's not to love zombie fans? Buy it. Display it. Put it in your kit.
From Dead-On Tools:
7 Reasons why this is the world's best Ultimate Utility Bar:
1. Demolition Hammer
2. Nail/Puller/Tile Ripper
3. Board Straightener
4. Demolition Axe
5. Precision Balance
6. Multi-purpouse Wrench/Nail Puller
7. Chisel
www.deadontools.com

We just want to add that the spikey chisel end is a really sharp spike, and that there is a bottle opener under the hammer head (upper right side).

Note: It's billed at under 4 pounds, but it really feels denser. Definitley not for the backpack. Would recommend for a campsite/apartment/home or it's really an ideal vehicle utility bar.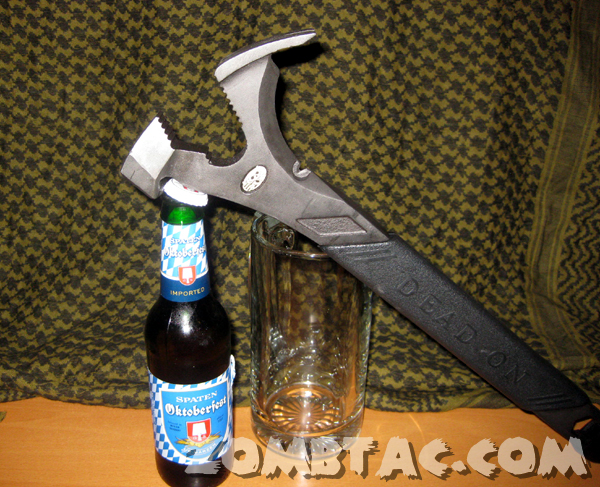 Disclaimer: Any information contained herein is strictly for entertainment purposes. Zombtac.com does not endorse or recommend any actions by untrained individuals and assumes no liability from misuse of this information. Always consult Federal, state, and local laws, regarding firearms and target shooting.



*Adhere to all Federal, State, and local laws when using firearms.*