Disney Jumps on the Zombie Bandwagon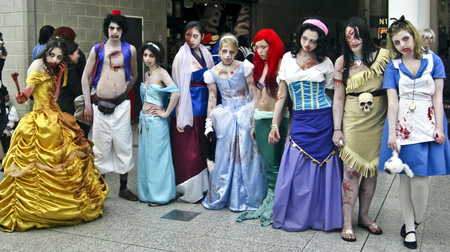 Disney Zombies at a convention. Now Disney is officially in the Zombie business.




October 13th, 2011
via press release:
DISNEY CHANNEL ORDERS MUSICAL PILOT "ZOMBIES AND CHEERLEADERS"
Disney Channel has ordered the music-driven pilot "Zombies and Cheerleaders." Production on the pilot begins in December in consideration for a Disney Channel series to premiere in 2012.
The story follows Zed Necrodopolis, a typical high school student with one small caveat; he happens to be a zombie. Despite a high-tech wristwatch designed to curb any appetite he may have for his classmates, he and his zombie friends remain unpopular with the school's most influential group, the pom-pom wielding cheerleaders. Never one to back down from a challenge, Zed sets out to improve zombie student body relations and win the attention of Addison, the cheerleading squad's newest member.
"Zombies and Cheerleaders" is executive produced by Eric Weinberg ("Scrubs," "Death Valley") and was written by Joseph Raso and David Light who also serve as co-executive producers. Todd Strauss Schulson ("A Very Harold & Kumar 3D Christmas") will direct the pilot.
Disney Channel is a 24-hour kid-driven, family inclusive television network that taps into the world of kids and families through original series and movies. Currently available on basic cable in over 99 million U.S. homes and to millions of other viewers on Disney Channels around the world, Disney Channel is part of the Disney/ABC Television Group.

*Adhere to all Federal, State, and local laws when using firearms.*