Product Review: Smith & Wesson Glow Lawman Watch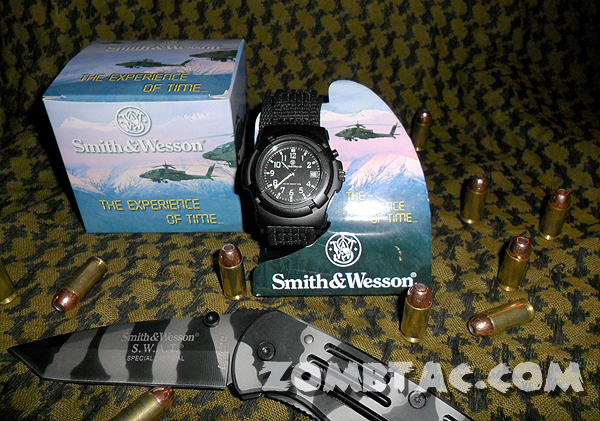 Smith & Wesson offers an affordable, basic option for a Tactical-type wristwatch.





"3 Z's!" -Zombtac.com

Smith and Wesson's no-nonsense SWW-11B GLOW Lawman Black Nylon Strap Watch.

So, we were looking for a very basic, straightforward, tactical-style watch. Something all black, with an easy to read face, lightweight and durable, with maybe some night time capability. And we didn't want to overpay to meet that criteria with features or finishes we didn't want.
Enter the Smith & Wesson Lawman "Glow". It is an affordably priced watch, with a straightforward tactical design, and an electronic back-glow feature.

First of all the watch is a basic and no-frills timepiece (at a pricepoint that represents that), yet it does not at all have a cheap feel to it. We've used much of the Smith and Wesson line before and found that most of their products are just that, affordable and practical. By no means does that mean this would replace very high-end tactical gear, especially when critical dependability and function is required by an operator, but the Lawman Glow is durable enough to get the job done as well as many other overpriced pieces.

Watch Case-

The watch boast "Japanese movement", but right on the stainless steel back it is indicated that it is made in China. Nevertheless the construction seems sturdy, and is ergonomically simplistic with a side dial/knob to set the date/time and a single depressed button for the backlighting function. The coating seems to be painted on and will scratch but appears durable enough for this price point. The entire watch weighed in a 3.1 ounces.

Overall, we really like the design and feel of the watch. Very practical/tactical.

(See detailed pictures below)
Face/Dial Design -
First of all a scratch resistant hardened mineral glass crystal that protects the dial. It seems thick and sturdy but we did not put it up to the test. The dial itself is just what we are looking for, large visible letters and hour dots - same ineffective glow in the dark treatment as the hands (see details below) though it enhances the style. Minute markings are also there, as is a traditional window for the date display. The numbers are easy to read at a glance, and look great in this straightforward no-nonsense tactical styling.

One point of contention by some may be that the face is simply too small for a "tactical" watch. We disagree The simplicity of design, the standout numbers and glow feature make it for quick and easy acquisition of time.

Hands - the hands are wide, but not too wide and the hour and minute hand have a basic light green glow-in-the-dark strip on them. This feature is not outstanding, as the hands need to be exposed to direct light in order to give off any glow, and will fade after the exposure. They retain enough energy to be seen in a near-dark room, but not to the discernible point where they are useful (however the backlighting feature more than makes up for that -see below).

Strap - The nylon strap has a sewn-in adjustable Velcro strap that runs the length, and doubles reinforcing the strap itself, providing a durable system. The strap connects to the watch case by being sewn in around the pins. The end of the strap loops through a metal ring (the only non-black part of the watch, apart from the dial numbers and the stainless steel back) and Velcro straps back against itself. It is functional, although to get a good fit may need to be strapped tightly, causing a potential comfort issue. The end of the strap has a stiched-on rubber flap with the Smith & Wesson brand embossed on it.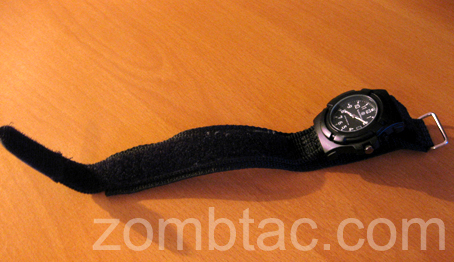 Backlighting Feature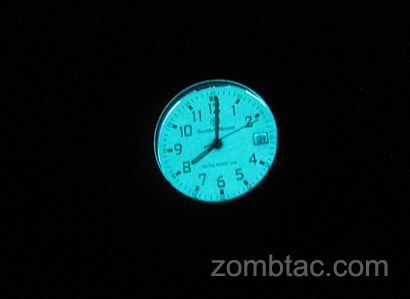 What the glow in the dark markings lack, this night time feature makes up. You press the only button on the case (upper right corner) and the entire face will electronically backlight and glow a cool green for exactly 3 seconds.
It makes a very visible dial and is an effective function. The above picture was taken in a completely dark room.

Overall Assessment: For the price point Smith & Wesson delivered what we were looking for; a basic, practical and tactical stylish watch, with a useful night time function.

Manufacturer Product Description
Slide your hand into the bold style and sophistication of the Smith & Wesson Lawman Watch that features a round black face and nylon wristband. Crafted with all the precision and reliability that's made Smith & Wesson a staple in the law enforcement community, with a look and feel befitting all your off-the-clock escapades! Equal parts sturdy and stylish, it's all the watch you want, with the attention to detail and performance that you've come to expect from Smith & Wesson, for a price you'll love!

This watch features precision quartz Japanese movement and includes 3 hands to show the hours, minutes and seconds, date display, and a scratch resistant hardened mineral glass crystal that protects the dial. The electronic back-glow makes for easy reading at night. This timepiece is water resistant up to 30-meters (90-feet) and ideal for anyone looking for adventure, sport or any daily rugged outdoor activity. Smith & Wesson Men's SWW-11B GLOW Lawman Basic Round Black Face Watch comes with a 1-year limited warranty.

Smith & Wesson is one of the world's most recognizable brands and for good reason. Since they first opened their doors they have focused on designing and manufacturing innovative solutions that are unparalleled in the field of personal safety and protection. Almost every major law enforcement and military agency in the world has used Smith & Wesson products and to this day most police departments in the United States depend on their firearms and accessories. Smith & Wesson has been a partner to law enforcement since the late 1800s, developing crime-fighting tools that set the standard for the field and those products have enhance public safety, security and protection all over the world.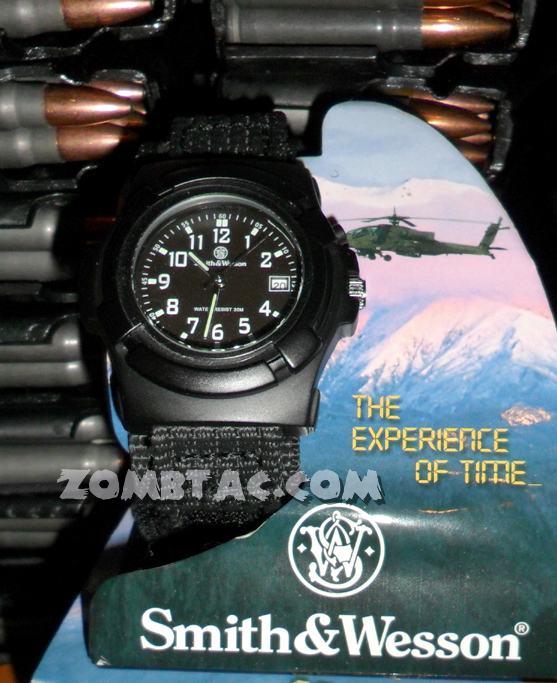 Water resistant up to 90 feet, the electronic back-glow makes for easy reading at night.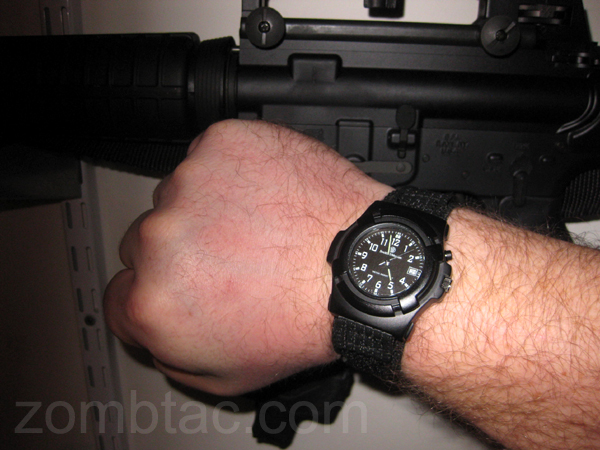 The Lawman Glow is a viable basic option for most operators.