The Walking Dead S2 Premier Breaks Record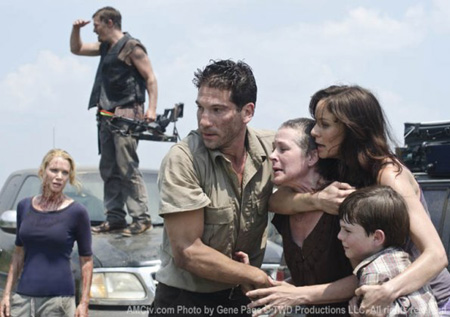 Now it's official. Zombie is the new black. The Walking Dead Season 2 premiere is the highest rated drama in basic cable history.




New York – October 17, 2011 –

Last night's season two premiere of AMC's original series, "The Walking Dead" delivered the strongest telecast for any drama in basic cable history. The season two premiere delivered 4.8 million Adults 18-49 and 4.2 million Adults 25-54 shattering a basic cable record set nearly 10 years ago for a single drama telecast. The program delivered a 4.8 HH rating netting 7.3 million total viewers. These results represent a 36% and 38% increase respectively over season one's series average on AMC. Season one's series average delivered the most A18-49 viewers for a drama in basic cable history.


AMC release:
"'The Walking Dead' is one of those rare television programs that reaches both a core genre fan as well as broad audiences simply looking for a great, character-based story. We're so proud of and grateful for the amazing team on both sides of the camera who works so hard and is so committed to making this a unique programming event," said Charlie Collier, AMC's president. "That 'The Walking Dead' is now the most watched drama in the history of basic cable is staggering, just like our zombies."
"The Walking Dead" secured a 2010 Golden Globe nomination for best television series and won the 2011 Emmy award for outstanding prosthetic make-up. The series tells the story of the months and years that follow after a zombie apocalypse. It follows a group of survivors, led by police officer Rick Grimes, who travel in search of a safe and secure home. The comic goes on to explore the challenges of life in a world overrun by zombies who take a toll on the survivors, and sometimes the interpersonal conflicts present a greater danger to their continuing survival than the zombies that roam the country. Over time, the characters are changed by the constant exposure to death and some grow willing to do anything to survive.
*Adhere to all Federal, State, and local laws when using firearms.*